This 1970 challenger was originally equipped with a 383 engine and 3.23 gears. The S/E R/T had a smaller rear window then the R/T. The S/E also came with a overhead console with low fuel,door ajar and seat belt warning lights. I bought the car in 1982 for $1700,from a woman getting a divorce. The car still has the original paint,but I did replace the hood with a 440 six pack hood.I replaced the 383 with a 440 engine out of a Chrysler New Yorker. The motor work was done by myself. All the machine work was done by K&G speed shop before I assembled it. Other changes that I made were rear axle ratio and transmission. The transmission is locked out with a cheetah valve body. The rear axle was replaced with a 3.91 ratio. I still have all the original parts to put the car back to stock. Scroll down to see and hear the car going down the track. This car is driven on the street and runs 12 Sec.times on pump gas. Nitrous oxide was on the car at one time it ran mid 11's at 115 M.P.H.. This mid 11 time was run through the exhaust with sticky street tires M&H street masters. Nitrous is not in the car any more because of the need for a rollbar. Enjoy your visit!

HORSEPOWER CALCULATOR
INFO


CAM SPECS.& EFFECTS



ATCO RACEWAY ONLINE
PRODUCTS
CRANE CAMS
JEGS HIGH PERFORMANCE

FELPRO ONLINE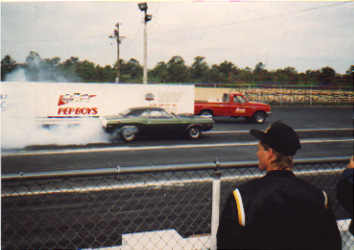 CLICK HERE TO SEE MY TIPS AND TRICKS PAGE
VISIT MY WIFE'S FAMILY PAGE

EMAIL FOR BUILD SHEET
CAM SPECIFICATIONS ETC.
SEND ME YOUR MOPAR PICTURES!!!

[ Previous Two | List | Join | Random | Next Five ]
This Mopar Webring member site is owned by Joe.